The Bathtub Medic can install a brand new acrylic tub right over your existing porcelain bathtub, without removing the old bathtub! Acrylic bathtubs look great and always stay easy to clean. They will never yellow or become hard to clean, like fiberglass, nor will they ever rust, like porcelain-on-metal bathtubs. This bathtub liner approach has the advantage of having almost no fumes to deal with, and they are more environmentally sound than demolishing an entire bathroom and dumping it all in a landfill.
Bathtub liners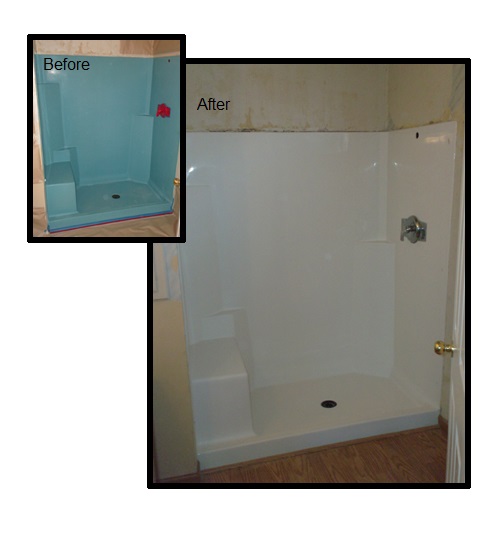 There are some porcelain bathtubs that are just too far gone to be able to be satisfactorily refinished. Sometimes these bathtubs are rusting from the underside, a process that is virtually impossible to stop, and which leads to actual holes forming in the porcelain. Sometimes porcelain-on-steel bathtubs will start to develop a depression where people stand while showering. This depression causes puddling, which in turn causes staining and eventually more rust. Finally, some customers just need an ultra-durable bathtub that will last for the ages. Acrylic bathtub liners will solve these problems.
What is a bathtub liner?
Acrylic bathtub liners are molded from the exact same model of bathtub that a customer wants to replace. It fits like hand-in-glove over the existing porcelain bathtub. We would carefully measure the old bathtub and order a new bathtub liner from the manufacturer. Then our technician trims the new tub liner to fit perfectly against the walls, places the adhesive onto the old tub, and permanently attaches the new acrylic bathtub liner over the old tub, re-attaching the plumbing along the way.
How Does An Acrylic Tub Compare To a Porcelain Tub?
The acrylic material offers a number of advantages over porcelain. Acrylic has no metal, and so it will never rust, like porcelain does. Acrylic is far less likely to be chipped than porcelain; if you hit it with a hammer, you'll take out a tiny gouge, while porcelain chips quite readily. While porcelain tends to look grey and dull over the years, acrylic just always seems to look beautiful white and shiny, even after decades of use. Acrylic is easier to clean than porcelain, and less likely to be damaged by caustic cleaners. For people who enjoy taking baths, water stays warmer four times longer in acrylic than in porcelain. Finally, from a health standpoint, porcelain-on-cast iron bathtubs are notorious for leaching lead into water. An installed acrylic bathtub liner will completely stop cast iron tubs from leaching lead, period.
How Does The Price of Bathtub Liners Compare to Refinishing or Replacing Tubs?
Acrylic bathtub liners are more expensive than bathtub refinishing. However, they are a tiny fraction of the price of gutting a bathroom in order to replace a bathtub. Additionally, for anyone who is concerned about the environment, bathtub liners do not require removing the existing porcelain bathtub, Thus, the use of tub liners avoids dumping a rusting old tub, along with old sheetrock, wall tile, wooden studs, etc., into the landfill.
Or Contact Us To Schedule An Appointment
My partner and I have a master bathroom with two sinks and when one of the sinks was damaged (cracked and chipped), we thought we would have to replace it. Since our home is 20 years old, finding a sink to match the other one was becoming a big  problem.
Happily, we found Wayne and his company, the Bathtub Medic. Wayne repaired the cracks and chips and then reglazed the sink. The finished product says it all, the sink looks brand new! It's impossible to tell it was ever damaged. Wayne does amazing work- and, is as professional and masterful as it gets. My partner is a contractor who works on many high end homes in the Bay Area. He cannot stop commenting on the incredible job Wayne did. Wish you could see the before and after pictures- it's like magic!!
I highly recommend Wayne, and, in fact, I just sent an email to my colleagues at work with before and after photos.
Jacqueline W.